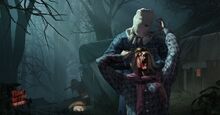 Chad Kensington is a playable character in Friday the 13th: The Game. His character trope is "The Preppy Guy."
 Character Stats
Edit
Composure 1/10 - Reduces the rate that fear increases and makes it easier to break free from Jason's grab.  
Luck 10/10 - Increases weapon durability and gives minor increases to many other stats.  
Repair 2/10 - Increases repair effectiveness.  
Speed 9/10 - Increases overall top speed.  
Stamina 4/10 - Increases overall stamina pool and reduces the stamina cost of actions.  
Stealth 6/10 - Reduces the amount of noise generated and Jason's ability to sense.  
Strength 3/10 - Increases attack damage with weapons and reduces the stamina cost of combat actions.    
The loading screens claim that he is a momma's boy, though he would never admit it.
His outfit is based off of Russell Bowen, and Rick Bombay.
His hairstyle could be based off Trent Sutton, a character from Friday the 13th (2009).
There's an achievement in Friday the 13th: The Game which refers to Chad, and is called "Chad Is A Dick", the achievement is rewarded for escaping in a vehicle alone while other players are still alive. Despite his name in the title, you don't have to be playing as Chad to get it.
Chad is the only character to appear in every single opening cutscene
Community content is available under
CC-BY-SA
unless otherwise noted.