Duke Johnson is a character in the film Friday the 13th: A New Beginning, in which he is portrayed by Caskey Swain.
Biography
Edit
A paramedic, Duke, in the Fall of 1989, is called out to the Pinehurst Halfway House with his partner Roy after an argument between two residents there, Joey and Vic, escalates into Vic murdering Joey with an axe. Inspecting Joey's body, which is covered by a bloodstained sheet, Duke removes the blanket and exposes Joey's horribly butchered remains. Amused by the revulsion Roy and the assembled crowd show at the sight of Joey's corpse, Duke asks Roy to help him move the boy's body. After Roy, who appears distracted by Joey's body, fails to respond to him, Duke again asks him for help which brings Roy back to his senses. Duke and Roy later appear picking up the bodies of a pair of murdered greasers named Vinnie and Pete.
While fleeing from what appears to be machete wielding serial killer
Jason Voorhees
(in actuality Roy Burns, who was Joey's father) Pinehurst assistant director
Pam Roberts
and a boy named
Reggie
find Duke's ambulance parked in the middle of the road. Rushing to the ambulance, Pam bangs on it and screams for help before opening the driver side door. After Pam opens the door, Duke's body, which appears to have a slashed throat, falls out of the vehicle and onto the road, a piece of chewing gum still in his mouth. After discovering Duke's body, Pam and Reggie quickly flee back into the woods when Roy appears.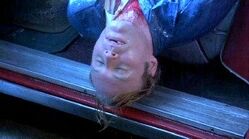 Appearances
Edit
Friday the 13th: A New Beginning (1985)
References
Edit